Believe

In It.

Invest

In It.

Grow

In It.
Duke Energy Honors Dana Monson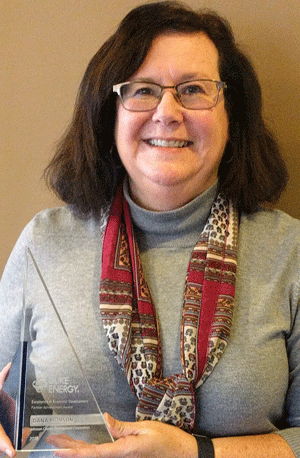 FRANKLIN, IN – Dana Monson of the Johnson County Development Corporation has received the Excellence in Economic Development Partnership Achievement award from Duke Energy of Indiana.
This award is given to individuals who consistently demonstrate an eagerness to work with Duke Energy to help attract new business and industry to the communities in their service territory.
"We are very pleased to have Dana recognized by this important economic development partner. Dana has worked so hard on behalf of our county and JCDC," said Patrick Sherman, JCDC Board Chair.
The Partner Achievement Award is presented to local and regional economic development organizations and individuals who have built successful long-term relationships with Duke Energy on local growth projects, according to the company.
Dana joined JCDC in May 2012. She is the Interim Executive Director, the coordinator for the Aspire Johnson County program and works the leads and projects for JCDC.
Prior to JCDC, Dana was the Utility and Business Manager for the Town of Edinburgh. She was also the point person for the economic development program for the town. She previously was the Superintendent of Parks and Recreation for the town.
Dana is a 2010 graduate of Leadership Johnson County and a 2012 Ball State Economic Development Basic Course graduate. She is currently a member of Franklin Chamber of Commerce, the Greenwood Chamber of Commerce, the Indiana Economic Development Association, the Mid-America Economic Development Alliance and Prosperity Indiana.