Believe

In It.

Invest

In It.

Grow

In It.
Milo Shares State Workforce Strategies at Annual Meeting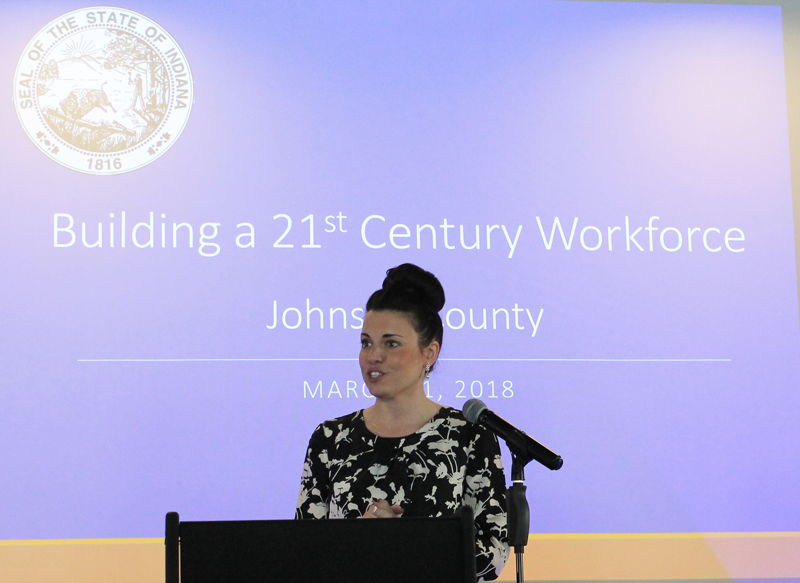 Blair Milo, Indiana's Secretary of Career Connection and Talent, speaks at the JCDC/Aspire Johnson County Annual Meeting. (Photo by Jody Veldkamp)

GREENWOOD - Indiana's chief talent and recruiting official says the state is hyper-focused on training employees, but must engage them through programs at varying education levels.
"There are pockets of potential employees that we have to reach. The key to growing our economy is connecting those talent pools with company needs," said Blair Milo, Indiana's Secretary of Career Connection and Talent, at the Johnson County Development Corporation and Aspire Johnson County 2018 Annual Meeting.
On the same day that Gov. Eric Holcomb signed workforce development legislation that creates a new 21-member Workforce Cabinet to oversee the state's job-training programs and broadens eligibility requirements for some worker training grants, Milo shared some of Indiana's strategy in building a 21st Century Workforce. The key, she said, is connecting with the private sector.
"The more partnerships, the better we serve both the job seekers and the companies who need great employees to succeed," Milo told the crowd at The Nest Event Center.
In Johnson County, the number of job openings is expected to jump from 1,877 to 2,763 each year during the next decade. Filling those positions will require training programs that go beyond traditional bachelor degrees. For example, Milo said the state is connecting with students who started college but have not finished; is reaching out to Hoosiers who have not completed their high school diploma; and is offering training to high school graduates who can go directly into "learn and earn" apprenticeships in skilled trades.
She touted Gov. Holcomb's Next Level Jobs program, which helps working-age Hoosiers find a path to a better job through education and training beyond high school. Two million Hoosiers need additional training to compete in the 21st Century workforce, and there will be more than 1 million job openings in Indiana due to retirements and the creation of new jobs by 2025.
Before Milo's presentation, JCDC Executive Committee Chair Patrick Sherman, Founding Partner with Sherman & Armbruster LLP, said 2017 was an excellent year in economic development. "The past year was one of the best years for the number of leads and interest from local and international companies," Sherman said.
JCDC received 137 leads and had 24 site visits to the county's industrial parks, buildings and new industry sites. JCDC celebrated the success of 18 new and existing companies with a projected investment of more than $363 million. Sherman mentioned the construction of a new shell building at Franklin Business Park, the expansion of Endress+Hauser in Greenwood and the opening of the new online retailer Dia & Co. in Greenwood.
Aspire Johnson County, a program of JCDC, also celebrated a successful year. Steve Jaronsinkski, Chief Operating Officer at Johnson Memorial Health and Co-Chair of Aspire, cited the projects by the Talent and Retention, Growth and Planning and Placemaking teams.
Aspire also presented Endresss+Hauser its Corporate Leadership Impact Award for its work on the Community Career and Education Forum. Carmen Parker was given the Individual Leadership Impact Award for her work creating the Johnson County Trails Committee and work on trails in Whiteland.
JCDC Founding Member Chet Aubin, who recently retired as President and CEO of Johnson County REMC, was recognized for his long-time contributions.
View the JCDC/Aspire Johnson County 2018 Annual Report